ICTD 2022: a Successful hybrid event on Patient Recruitment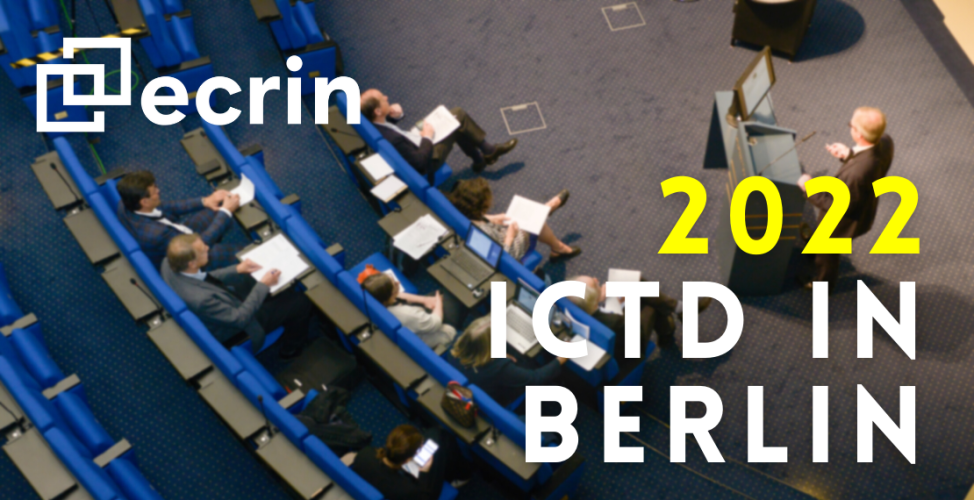 ICTD 2022 - Recruitment in Clinical Trials
ECRIN, together with our German national partner, the KKS Netzwerk, hosted International Clinical Trials Day 2022 as a hybrid event located in Berlin. ICTD 2022 brought together stakeholders from the international clinical research community, from across Europe and the globe, to discuss the challenges and opportunities related to recruitment in clinical trials.
Hybrid event
For the first time since its debut in 2005, ICTD 2022 was organised as a hybrid event, meaning that visitors could join the event in Berlin or follow it live via the online broadcast. Over 100 people visited ICTD 2022 in the Langenbeck-Virchow-Haus in Berlin, and more than 400 people connected from all across the world and joined the event via the online live stream!

Some of the overarching conclusions of the day include: 
- the need for patient involvement
- the adoption of pilot trials to ensure trial feasibility
- established infrastructures and networks for clinical trials and research methodology
- the use of technology, including electronic health records, to support patient recruitment
Welcome and Keynote ICTD 2022
Welcome and opening statement of ICTD 2022

Jacques Demotes

Director General, ECRIN

Heiko von der Leyen

German member of ECRIN Network Committee

ICTD 2022 was officially opened by ECRIN's Director General, Jacques Demotes, and the German representative Dr. Heiko von der Leyen, who welcomed the attendees and handed over the floor to the clinical trial experts to share their knowledge and experiences on patient recruitment in clinical trials. The many questions on patient recruitment in clinical trials were addressed from different angles, from the clinical research, funders', and regulator's perspective to the patients'.

Introduction: Delay and premature termination in publicly funded clinical trials due to insufficient recruitment

Dr. Svenja Krebs

Scientific Officer, Dept. Clinical Research and Digital Health, Division of Health, DLR Project Management Agency

In her concluding remarks, Dr. Krebs highlights the importance of written commitments from the participating centre in the proposal phase, the assessment of the feasibility and an initial pilot which would be taken into account for the review process, the definition of stopping rules for the trial, an adequate financial support and the necessary training to ensure the patient recruitment. 

 

Keynote lecture: Recruitment in clinical trials: The ultimate challenge

Prof. Matthias Briel

Head of Meta-Research Centre, Dept. of Clinical Research, University Hospital Basel, Switzerland

Adjunct Professor, Dept. of Health Research Methods, Evidence and Impact, McMaster University, Canada

In his keynote, Prof Briel highlighted briefly many of the issues that would be discussed throughout the day, including the importance of patient engagement, and the development of trials through patient cohorts. He called for better established trial networks, increased investment in trial methodology infrastructure and evidence, the use of new trial design and the leveraging of technology to improve trial recruitment. 

 
Morning session – Perspective on Patient Recruitment
European perspectives for recruitment in clinical trials

Anna Ceccarelli

General Directorate for Research and Innovation in Healthcare, Ministry of Health, Italy

ERA4Health aims to strengthen the scientific competitiveness of Europe in clinical research and to reinforce its attractiveness for the health industry by making Europe a single area for clinical research.

 

Patient involvement in clinical research and its impact on patient recruitment

Joan Jordan

EUPATI fellow

Joan Jordan discussed the PRioRiTy study which looked at what was required to improve the process of how people are recruited. She also spoke to her personal experience and how the questions raised in the study are relevant to the different stakeholders in clinical research. 

 

Secondary use of electronic health records for clinical trial feasibility and patient recruitment

Nerea Ruiz del Arbol

HM Hospitales

The programmes in place at HM Hospitales were described and the ways in which these tools can inform patient recruitment were highlighted. 

 
Afternoon session - Best practices
The official premiere of the ECRIN video.

ECRIN: Opening doors to European Clinical Research (3 min)

 

Difficulties of recruitment in early disease stages – experience from the MACUSTAR study

Dr. Jan H. Terheyden

Dept of Opthalmology, University of Bonn

Dr Terheyden presented a selection of tips that they put in place to boost recruitment in the MACUSTAR trial including prescreening lists, regular contact with the investigators, available dissemination material, and identification of low recruitment phases (holidays). It remains to be said that recruitment in early disease stages is a complex process. 

 

Pragmatic trial design and trials within cohort

Dr. Anna C. Bibby

Consultant Respiratory Physician & Honorary Senior Research Fellow, Academic Respiratory Unit, University of Bristol Medical School, Translation Health Sciences

Speaking from the experience of having conducted a TwiCs, Dr. Bibby concluded that TwiCs can support trial recruitment for RCTs in the right context. They can be applied to investigational products of drug trials but there are drawbacks that need to be considered. A feasibility study is necessary to allow for modifications before the full scale trial. 

 

VACCELERATE Volunteer Registry: A European study participant database to facilitate clinical trial enrolment

Jon Salmanton-García

Excellence Center for Medical Mycology (ECMM) & Cologne Excellence Cluster on Cellular Stress Responses in Aging-Associated Diseases (CECAD), Faculty of Medicine and University Hospital Cologne, University of Cologne

Promotion of the volunteer registries is crucial and to encourage people to register. For the VACCELERATE registry, they used posters, flyers, flash cards and videos. 

 
Panel session & Conclusion
Panel discussionNew perspective for patient recruitment

Prof. Matthias Briel, Anna Ceccarelli, Dr. Anna Bibby, Jana Popova, Prof. Jacques Demotes

 

The panel addressed a variety of hot topics on patient recruitment. A few key ideas include: 
Patient involvement, patient education and treating patients as equal partners are key factors for patient recruitment success.
The pragmatic trials better align with clinical practice and can boost recruitment. That being said "If you run a pragmatic trial you are turning two screws at the same time, and you might need more patients." - Prof. Matthias Briel, University Hospital of Basel.
The use of electronic health records is an untapped wealth of information that can support patient recruitment through aspects such as the definition of inclusion and exclusion criteria, site selection, patient selection, and to inform the trial CRF. Understandably, this topic led to a great debate in the panel and the audience with the benefits and drawbacks discussed from different points of view. 

 

Closing remarks

Jacques Demotes

Director General, ECRIN

ECRIN's Director General, wrapped up the meeting, covering some of the key information provided by the speakers and sharing key questions that remain to be answered. 

 
About International Clinical Trial Days
In 2005, ECRIN launched International Clinical Trials Day by ECRIN to commemorate the day when James Lind started his famous clinical trial on scurvy in 1747, May 20th, and laid the foundation for modern clinical research. Celebrated every year on or around May 20th, ICTD is an opportunity for research organisations, clinical research professionals, and the public to acknowledge the achievements that result from clinical research and to discuss various trial topics.
ECRIN's annual celebration of ICTD brings together European and international stakeholders. Given its success, the conference has been replicated by some of ECRIN's member/observer countries, who have now introduced their own national/international ICTD celebrations
Discover other news