Image
Clinical Trials
Facilitating the preparation and implementation of multinational studies
Supporting clinical studies across borders
The clinical operations services provided by ECRIN staff for academics and SMEs are ISO 9001:2015 certified. At the heart of our clinical operations service offer is our expertise and overarching support that we can provide to sponsors and investigators from their first contact through to the close out of their clinical study. The image below outlines the different ways in which ECRIN can support you.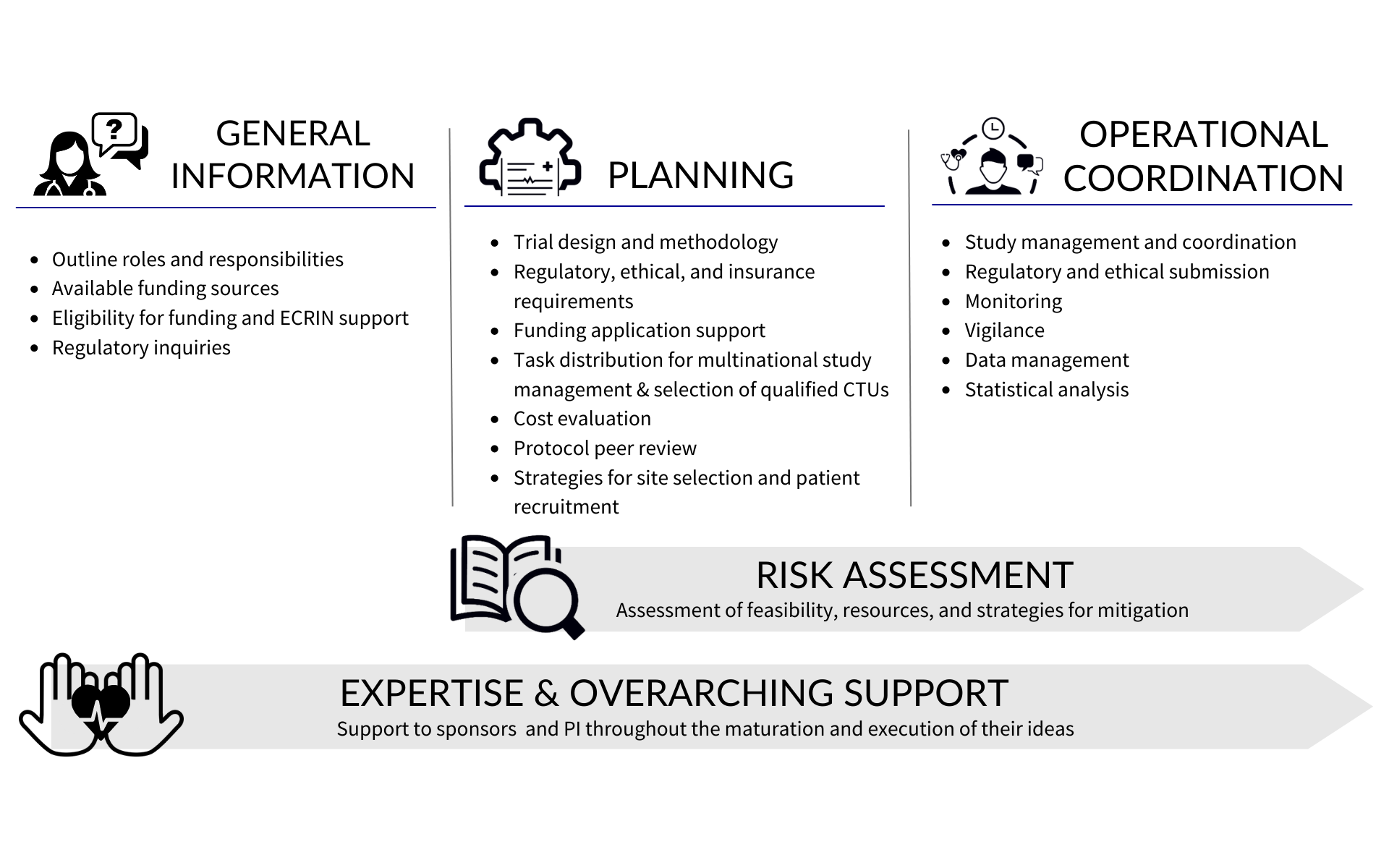 Discover the information on the Access and Cost of the Services.

 Discover our clinical studies Portfolio.

 Discover our Calls page for information on available funding, or view the overview of funding for multinational studies here.
Ensuring Quality Management
ECRIN develops and implements an effective QMS that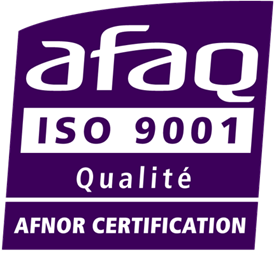 offers a clearly structured, systematic approach to improving research and maintaining the highest quality standards.
For ECRIN's internal processes, quality is assured through Standard Operating Procedures (SOPs), guidelines and training. For national scientific partners (i.e., clinical research infrastructure networks), quality is achieved through compliance with ECRIN quality standards. These standards (e.g., requirements for data centre certification) are used to confirm partners' capacity to provide appropriate and effective services.
Additional Activities to Support Multinational Clinical Research
ECRIN is also involved in activities to enhance the ability of European institutions to successfully conduct multi-country clinical research. This can include, for example, the creation and maintenance of tools or databases, or the recognition/certification of high-quality data centres.
Moreover, ECRIN is involved in infrastructure development projects that aim to further develop the European clinical research community and to facilitate multinational studies. For more information on the project or the full list of projects visit the dedicated pages.
General support is provided for initial project development and call identification
ECRIN can provide general information on questions related to the setup of a clinical study, as well as, the types of available European funding and how to apply (strategy, timelines, etc). Once the investigator / sponsor has identified an appropriate funding opportunity for the proposed study, they work with their national EuCo to request access to ECRIN's clinical operations.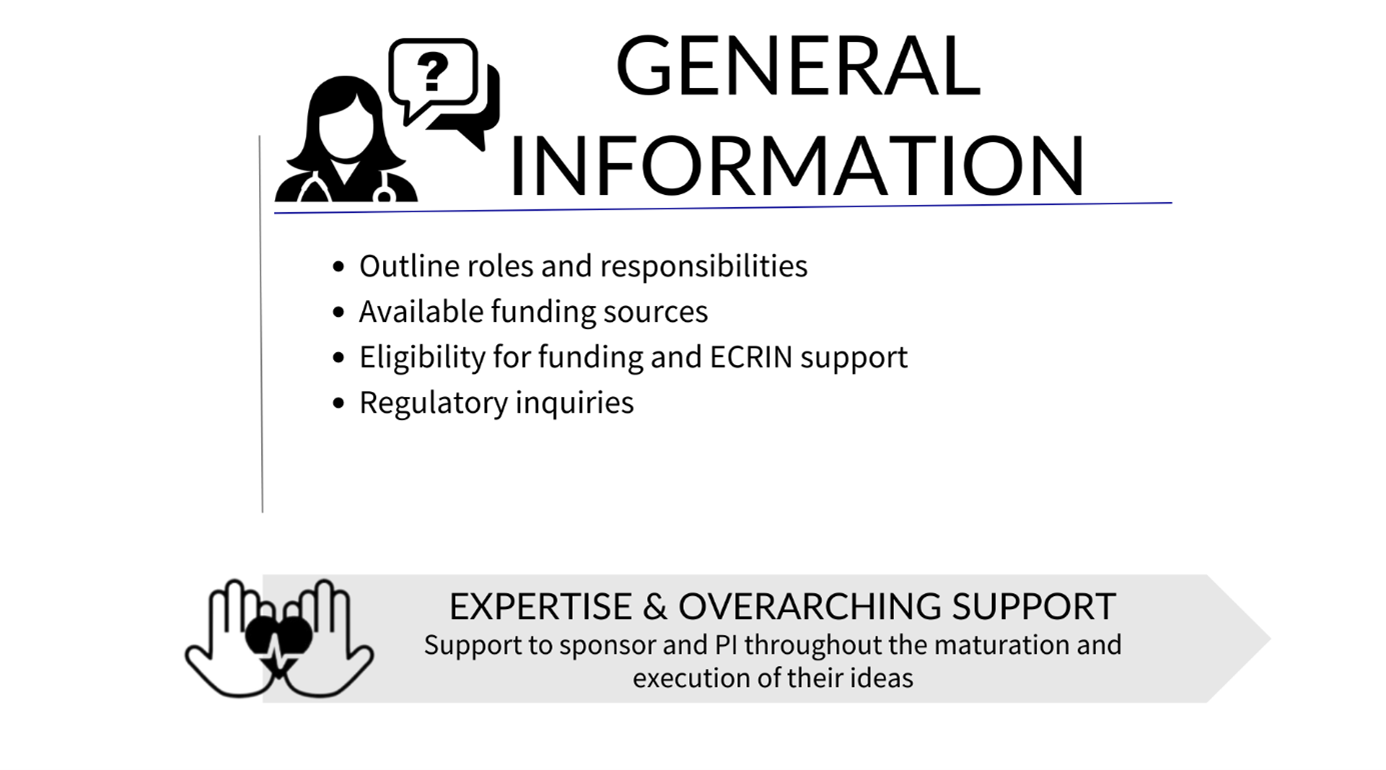 It is recommended to reach out to ECRIN early in the development process for maximum impact.
When planning a multinational clinical study, you need to consider financial, scientific, regulatory and administrative aspects long before you recruit the first patient. It is necessary to access experts and patients at other sites and countries, but complying with local regulations and requirements, sourcing services, and identifying collaborators can be a challenge. ECRIN is here to guide investigators, sponsors, project coordinators and other stakeholders through the different facets of multinational study organisation.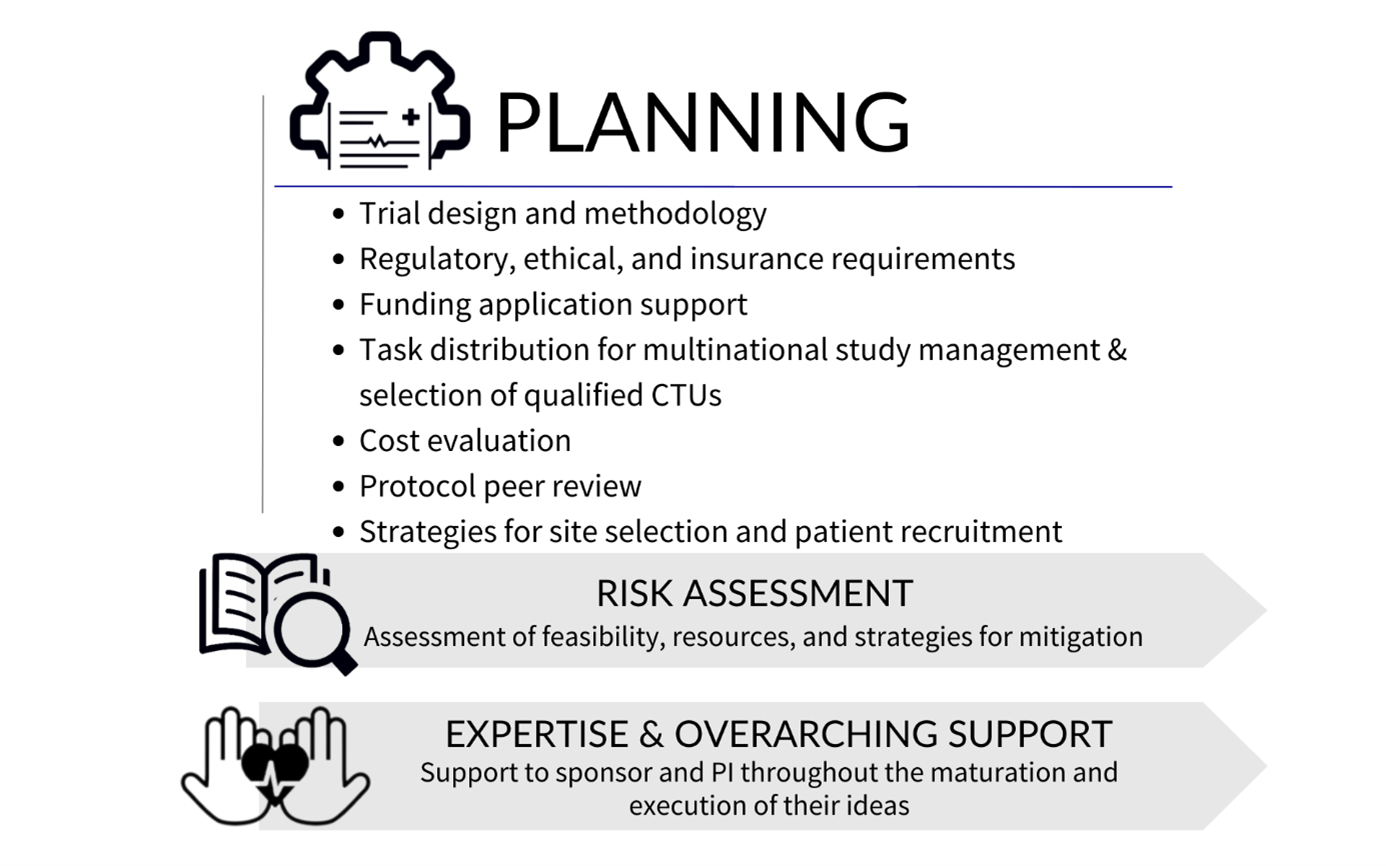 Before the start of the study, ECRIN offers advice on:
Trial design and methodology: ECRIN supports the investigator / sponsor on key elements related to the study design and methodology including the feasibility of the proposed design
Regulatory and ethical requirements: ECRIN guides you through the necessary steps to meet different requirements in each country
Funding: ECRIN advises on aspects of the structure of your funding application such as work package architecture, impact, management, governance, consortium composition, and multinational clinical trial management
Task distribution and selection of clinical trial units: ECRIN proposed the most suitable task distribution and work organisation for the completion of the proposal, based on application deadlines. European correspondents can provide input on the facilities in their country that have the capacity and services needed for your trial
Costs: Costs of ECRIN study management services are calculated by ECRIN to help you prepare your budget
Protocol peer review: a service offered through the ECRIN Scientific Board. This is required for studies that have not undergone any previous peer review that request access to ECRIN services. 
Site mapping and participant recruitment: ECRIN's in-country European correspondents can provide details of investigator sites and networks in their countries that can recruit participants for your study

 Discover more on funding calls for Clinical Studies and central funding for multinational clinical studies.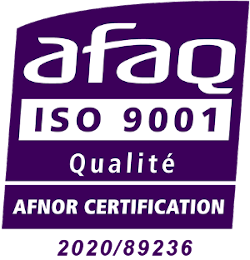 ECRIN provides ISO 9001:2015 certified study management across borders and, through local ECRIN European Correspondents with the contribution of their national partners, helps to overcome obstacles that occur due to working in different country systems. The effective Quality Management System (QMS) is a key component of trial management and ensures the protection of trial participants and the reliability of study results.
During project implementation, ECRIN offers investigators and project coordinators various study management services, accompanying them all the way from the recruitment of the first patient through to scientific publication.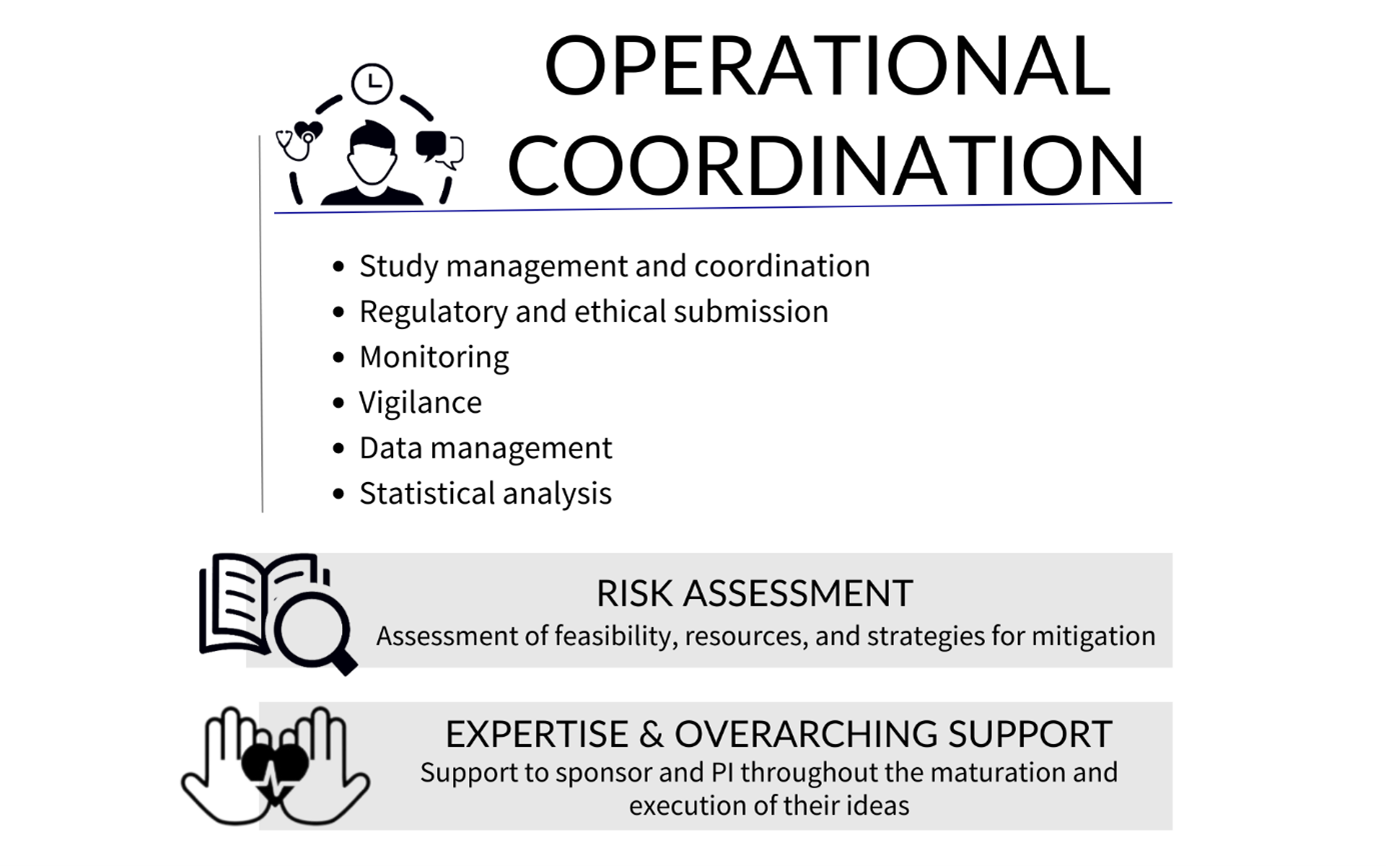 More specifically, ECRIN's operational coordination services include:
Study management and coordination: With experienced staff, ECRIN and lead CTUs can coordinate multinational studies and ensure overall management. National CTUs can provide local project management in their own countries.
Regulatory and ethical submission:
Support the submissions via the Clinical Trials Information System (CTIS) for trials compliant with the Clinical Trial Regulation (CTR): ECRIN can coordinate the preparation of national documents needed for the central submission and inform the sponsor of national specificities.
Submissions to competent authorities and ethics committees for clinical investigations on Medical devices and other types of clinical studies: ECRIN can manage submissions to regulatory and ethics authorities (and, if applicable, other authorities) in participating countries, ensuring that timelines are respected and avoiding delays.
Monitoring: All tasks related to monitoring such as training of the monitors, on-site visits, reporting and remote monitoring can be handled by ECRIN across countries.
Vigilance: ECRIN can provide central vigilance for clinical trials or clinical investigations and adverse events reporting.
Data management: ECRIN-certified data management centres, which are compliant with ECRIN standards, are available for data management in multinational studies.
Statistical analysis: ECRIN can provide a statistical analysis and statistical report.
How to Access Trial Management Support
ECRIN trial management services are provided at not-for-profit rates to projects approved after a scientific evaluation by the ECRIN Scientific Board and a logistical assessment by the ECRIN European Correspondents. The approval procedure takes seven weeks from protocol submission.
To find out more and/or submit your project, contact your European Correspondent and consult the Access & Cost Policy page.
ECRIN Members and Observers can benefit from the full range of ECRIN clinical operation services including general information, planning, risk assessment and/or operational trial management as well as our overarching advice and expertise.
Advice and information are provided free of charge by the ECRIN core team and European correspondents (EuCos) to academic clinical study projects involving at least two ECRIN Member and Observer countries.
Operational coordination services are provided at not-for-profit rates to academic sponsors. These rates reflect the non-profit cost of the services carried out by the national scientific partner (in ECRIN countries).
Eligibility
To be eligible for ECRIN support, projects must involve at least two Member or Observer countries. The projects must be reviewed and approved by the ECRIN Collaboration Committee. To find out more on conditions of access and/or submit your project, contact your European correspondent and consult the ECRIN policy "Access to ECRIN Clinical Project Services" and the ECRIN Scientific Board eligibility criteria for access to clinical project services.
ECRIN can provide support services even if the study's coordinating country is not a Member or Observer, if at least two ECRIN countries are included in the project. However, in this case support during the period of grant proposal preparation and study design development are not provided. 
To find out more about conditions for access and/or submit your project, contact your European correspondent and consult the ECRIN Scientific Board eligibility criteria for access to clinical project services.
 

 Discover the ECRIN Scientific Board and its members.
Who to Contact
The first point of contact for ECRIN trial support services is your local European correspondent. If there is no European correspondent for your country, contact the ECRIN core team.
Additional Information on Cost Policy
ECRIN also offers services to industry sponsors at market rates. These activities do not account for more than 20% of the ECRIN portfolio, as described in its Statutes. In such cases, a separate accounting system is used without VAT exemption.