TransVac Open Call for Applications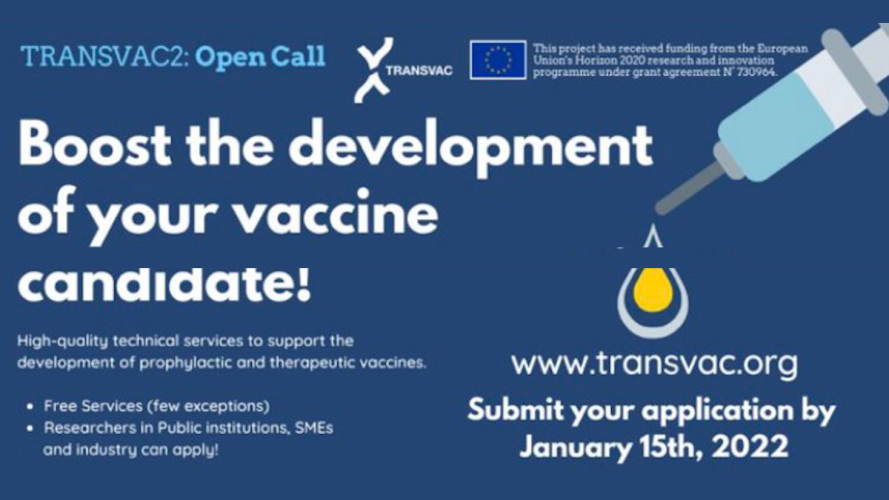 TRANSVAC2, an European vaccine research and development (R&D) infrastructure project, is dedicated to accelerating the development of safe, effective and affordable vaccines. Developing a vaccine is a time-consuming and complex process, requiring a combination of specialized skills and technical capacities not readily available at a single organization.
TRANSVAC2 facilitates access to these skills and capacities by offering high-quality technical services to support the development of prophylactic and therapeutic vaccines for both human and animal use. With the pandemic still ongoing, TRANSVAC2 is renewing its commitment to supporting academic and commercial vaccine developers through a new call for proposals dedicated to SARS-CoV-2 / COVID-19, with a special emphasis on variants of concern. Other project proposals will also be considered.
These services are offered free of charge. Researchers working on vaccine candidates and/or adjuvants at different stages of development in academia, research institutes, SMEs and industry can submit an application. Applications can be submitted by May 31st, 2022.
Do you have good preliminary results but need support to further develop your vaccine candidate? TRANSVAC2 R&D services might be a perfect match for you! There is currently an ongoing Open Call for applications. All information on how to apply, services and training available, webinars and more can be found on www.transvac.org.
Discover others news