Publication of Good Lay Summary Practice (GLSP) Recommendations
In recognition of the importance of providing accessible and understandable summaries of clinical trial results to patients and the public, Good Lay Summary Practice (GLSP) Recommendations were published,  October 4th 2021 by the EU Commission in EudraLex Volume 10. 
ECRIN contributed to the Roadmap Initiative for GLSP, led by EFGCP and EFPIA, which brought together experts from over 60 academic, industry, patient organisations and not for profits to develop this framework. Since 2019, this initiative compiled needs for transparency improvement on clinical study results, available guidance and experience with preparing and disseminating Lay Summaries (LS) in Europe and the US. The group has worked continuously with the EU Commission's Expert Group on Clinical Trials (CTEG) to deliver the roadmap.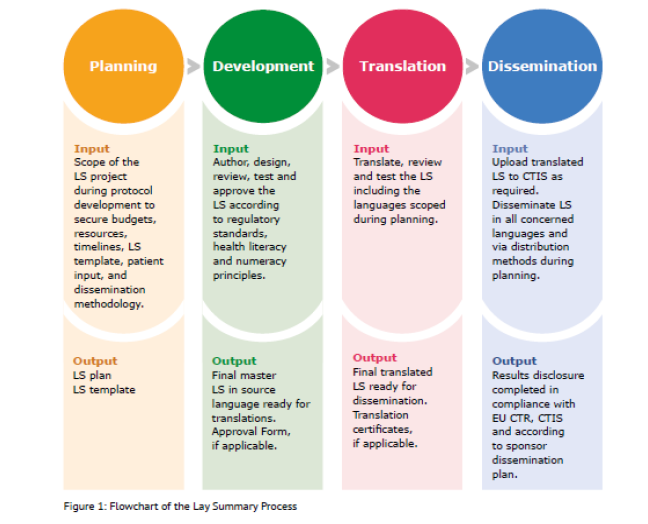 The result is a comprehensive document, that includes a quick guide, to support sponsors throughout the process, with recommendations for planning, development, translation, and dissemination of LS  (see figure). The ultimate goal is "to enable all sponsors to generate and disseminate objective and understandable information on clinical trial results," for trial participants and the general public.  
In line with Annex V of the CTR, the GLSP provides details on how to best summarise the key trial results in a LS and advises sponsors to establish a standard operating procedure and a LS template. In addition to patients' involvement and identifying a drafting/delivering team with the necessary skills and expertise, recommendations also focus on how to report complex trials and safety results and select appropriate layouts and graphics. All these if appropriately displayed, should contribute to easy readability and increased understanding of the content of the LS. Although the EU CTR does not require LS' translation(s), the GLSP recommends, at a minimum, to provide the LS "in the local language(s) of each of the countries where the trial took place", which is already current practice among industry sponsors. Finally, dissemination beyond inclusion into CTIS can be considered, e.g., through email or the sponsor's website, or printed copies of the LS provided to the investigator.
Upcoming training
Save the Date: the first webinar on "Good Lay Summary Practice" Recommendations on the new EU recommendations and ideas on how to prepare for the new regulatory obligation.
Co-organised by EFPIA & EFGCP, it will take place on 9th November 2021 - 15:00-16:30 CET. Register here.
Discover other news