International Clinical Trials Day
May 20th is the International Clinical Trials Day, a special day to remind and to celebrate that James Lind started the first randomized clinical trials on 12 sailors with scurvy on board of his ship in 1747. Thanks to his efforts the life (expectations) of sailors, and people in general, progressed rapidly and his work is the basis for the practice of preventive medicine and improved health care and nutrition as we know it today.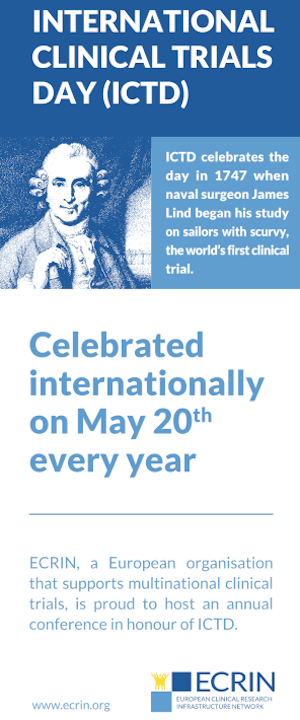 ECRIN salutes James Lind and joins the celebrations with a special anniversary: ECRIN launched the first international Clinical Trials Day 15 years ago, and has taken the work started by James Lind to guiding, assisting and participating in many multinational European clinical trials. And since 2005, ECRIN is also proud to have organised every year International Clinical Trials Day, together with the national nodes.
International Clinical Trials Day 2021
Due to the current situation with the coronavirus, the International Clinical Trials Day 2020 in Berlin had to be postponed. The next International Clinical Trials Day will be held on May 27th 2021 in Berlin. The topic of ICTD 2021 will remain (patient-)recruitment in clinical trials, and more details to come as soon as possible! Follow ECRIN on Twitter to stay up to date, and please reschedule your agenda to:
Date: 27 May 2021
Location: Langenbeck-Virchow-Haus, Berlin, Germany
The International Clinical Trials Day is an opportunity to foster dialogue between all stakeholders involved in clinical research (research organisations, clinical research professionals, patients and patients' representatives, regulatory bodies, ethical committees, funding bodies) and to discuss new challenges raised by emerging methodologies.
Discover other news