PedCRIN webinar series: An opportunity to discover our tools for the setup and management of paediatric and neonatal clinical trials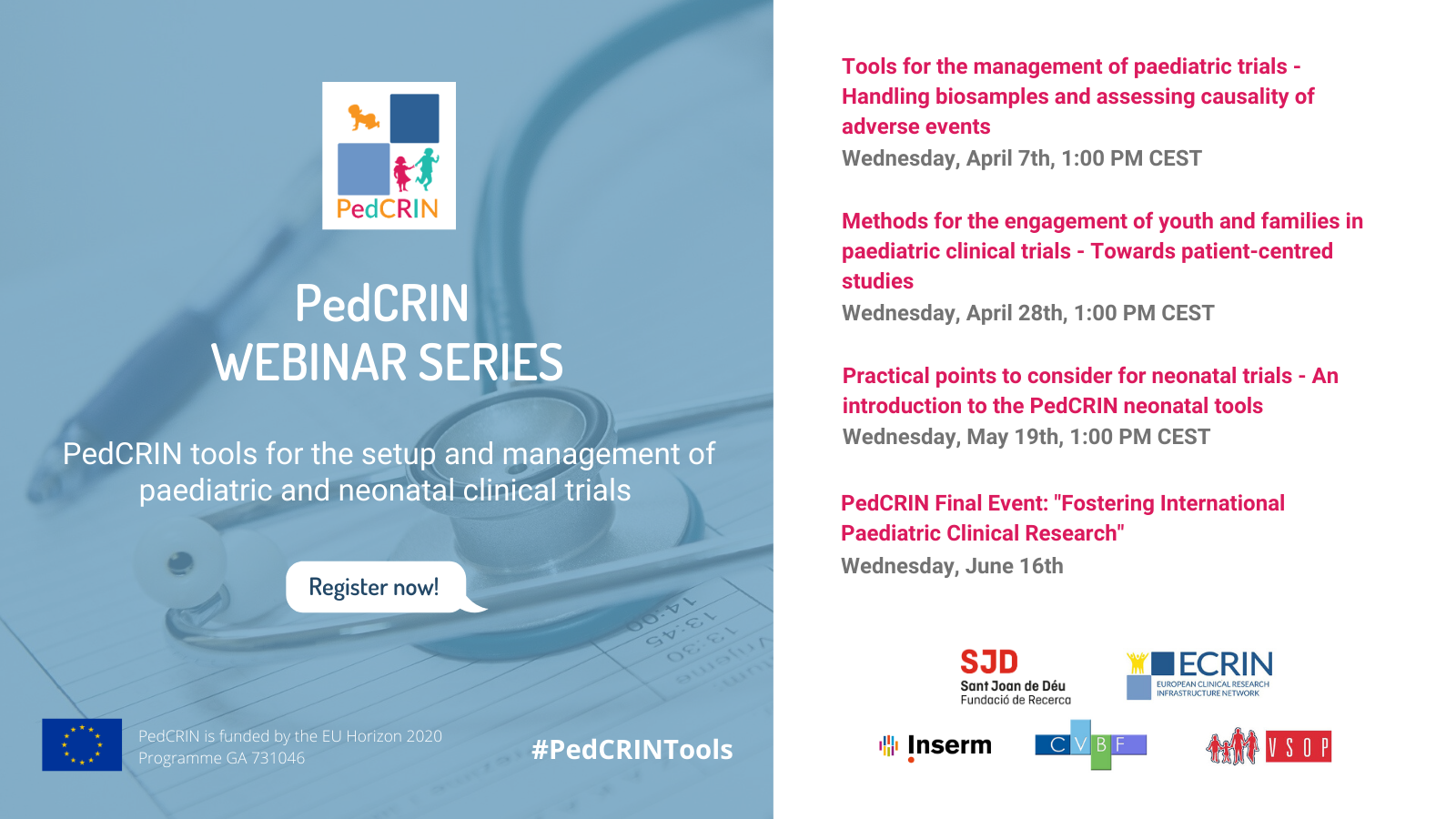 The PedCRIN project is coming to a close and we would like to go out big! For this reason, we are launching a webinar series to share some of the most interesting outcomes of the project. The series will be completed by the PedCRIN Final Meeting that will be an open meeting. In the webinars, we will present the tools for the setup and management of paediatric and neonatal clinical trials that have been developed through PedCRIN. The ultimate objective of this collection of resources is to speed up and facilitate the execution of clinical trials for neonates, children and young people.
CVBF and INSERM will explain the methodology employed in the development process of the tools, as well as, the relevance of the tools for researchers and clinicians.
In another webinar, representatives from VSOP and FSJD, the partners involved in communication, dissemination and patient engagement, will host a session addressed to researchers who are interested in including an effective patient involvement strategy in their studies.
These webinars are addressed to researchers and medical professionals interested in conducting paediatric clinical research but are also open to patient associations, patient advocates and expert patients. Registration is mandatory and free of charge. 
REGISTER HERE to reserve your spot at the webinars. 
Webinar series:
Tools for the management of paediatric trials: handling biosamples and assessing causality of adverse events

| April 7th 2021 · 1:00 pm CEST

Methods for the engagement of youth and families in paediatric clinical trials - Towards patient-centred studies

| April 28th 2021 · 1:00 pm CEST

Practical points to consider for neonatal trials - An introduction to the PedCRIN neonatal tools

| May 19th 2021 · 1:00 pm CEST
Final meeting:
Save the date: June 16th 2021 - PedCRIN Final Event: Fostering International Paediatric Clinical Research. More details to come shortly.
Related Projects
Discover other news