Launch of canSERV open call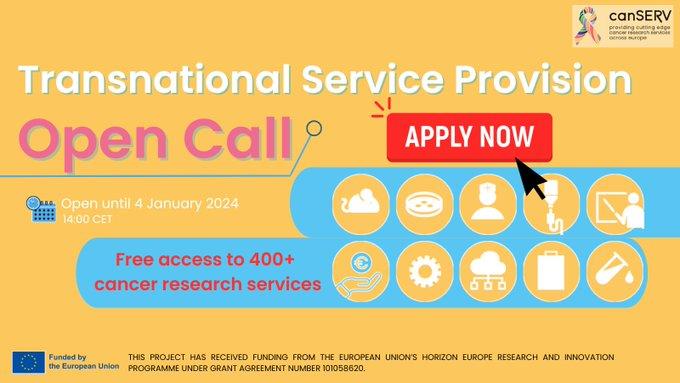 Under the canSERV Open Call researchers are welcome to apply to a portfolio of services offered by canSERV to address the research needs of the entire oncology developmental pipeline. The current open call, launched on 12 October 2023 will run until 4 January 2024 and includes over 400 services that can be accessed at no cost to the researcher.
The services offered in canSERV will cover the research needs of the entire oncology developmental pipeline, from discovery to implementation in the healthcare domain as recommended by the Cancer Mission Board. This includes: disease models, advanced cutting edge technologies, biomarkers research and development, novel therapeutics developments, complex clinical trial design and support, personalised oncology implementation pipelines and recommendations, and regulatory support and tools to analyse the socioeconomic dimension of research activities.
ECRIN as a part of canSERV consortium, will be offering services on planning and design of complex clinical trials. Researchers from in and outside Europe can request ECRIN's support for general information through to planning and drafting of protocol. For this service, ECRIN has partnered with Val d'Hebron Institute of Oncology (VHIO) representing Cancer Core Europe and EORTC (European Organization for Research and Treatment of Cancer).
This service includes, a first contact point, via a help desk, to answer all the researcher queries. If the researchers already have research proposals that they would like to seek advice on, they can apply directly for the service. The request will be reviewed by an independent panel of experts for scientific merit and for overall coherence with canSERV objectives. Once approved, ECRIN and partners will provide the service.
For more information on ECRIN's and other services: https://www.canserv.eu/calls/open-call-for-transnational-service-provision/
Related Projects
Discover other news