International Clinical Trials Day (ICTD) 2022
Recruitment in Clinical Trials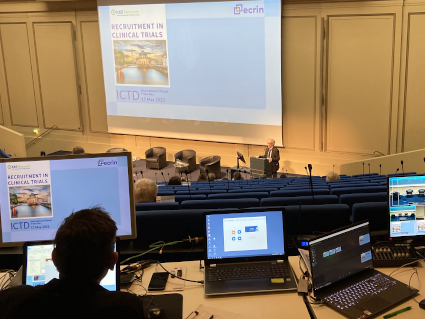 Together with the German scientific partner KKS Netzwerk, ECRIN hosted ICTD 2022 as a hybrid event live broadcasted from Berlin, Germany. ICTD 2022 built on the intentions of ICTD 2020, which was cancelled due to the pandemic. It brought together stakeholders from across Europe and the globe to discuss the challenges and opportunities related to recruitment in clinical trials.
ICTD 2022 took place on 17 May 2022 in the Langenback-Virchow Haus in Berlin, and was simultaneously online broadcasted.

 Discover the ICTD 2022 agenda below, and view detailed information and conclusions at our special page and ICTD2022 wrap-up newsletter. 
Welcome
Jacques Demotes, Director General, ECRIN
Heiko von der Leyen, German member of ECRIN Network Committee
Introduction: Delay and premature termination in publicly funded clinical trials due to insufficient recruitment
Svenja Krebs, Scientific Officer, Dept. Clinical Research and Digital Health, Division of Health, DLR Project Management Agency
Keynote lecture: Recruitment in clinical trials: The ultimate challenge
Matthias Briel, Head of Meta-Research Centre, Dept. of Clinical Research, University Hospital Basel, Switzerland
Adjunct Professor, Dept. of Health Research Methods, Evidence and Impact, McMaster University, Canada
MORNING SESSION: PERSPECTIVE ON PATIENT RECRUITMENT
European perspectives for recruitment in clinical trials
Anna Ceccarelli, General Directorate for Research and Innovation in Healthcare, Ministry of Health, Italy
Patient involvement in clinical research and its impact on patient recruitment
Joan Jordan, EUPATI Fellow
Secondary use of electronic health records for clinical trial feasibility and patient recruitment
Nerea Ruiz del Arbol, HM Hospitales
AFTERNOON SESSION: BEST PRACTICES
Difficulties of recruitment in early disease stages – experience from the MACUSTAR study
Jan H. Terheyden, Dept of Opthalmology, University of Bonn
Pragmatic trial design and trials within cohort
Anna C. Bibby, Consultant Respiratory Physician & Honorary Senior Research Fellow, Academic Respiratory Unit, University of Bristol Medical School, Translation Health Sciences
VACCELERATE Volunteer Registry: A European study participant database to facilitate clinical trial enrolment
Jon Salmanton-García, Excellence Center for Medical Mycology (ECMM) & Cologne Excellence Cluster on Cellular Stress Responses in Aging-Associated Diseases (CECAD), Faculty of Medicine and University Hospital Cologne, University of Cologne
Panel discussion New perspective for patient recruitment
Matthias Briel, Anna Ceccarelli, Nerea Ruiz del Arbol, Anna Bibby & Jana Popova
Closing remarks
Jacques Demotes, Director General, ECRIN