EOSC Future Open Call: Optimising Open Science Frameworks in the Context of EOSC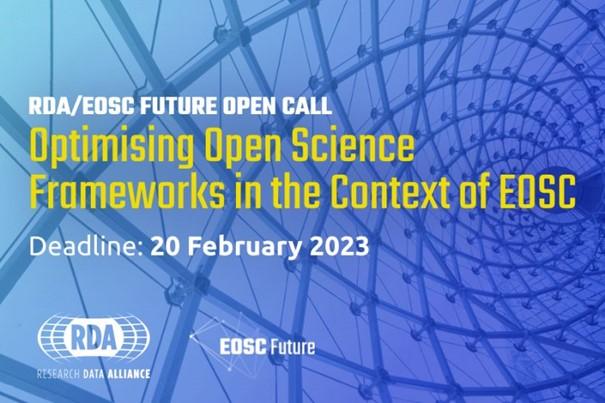 EOSC Future and RDA groups are looking for research groups to enhance data-sharing solutions within EOSC. EOSC is building a federated infrastructure to support Europe's data output and works to enable the discovery and re-use of FAIR research data. In this context, RDA plays a key role to underpin new and existing pathways to sharing research data. A wide range of activities – including promotional, analysis, and technical documentation activities – can be funded through this call.
RDA is running a series of calls, as part of the EOSC Future project, to further enable integration and take up of EOSC services. These RDA Open Calls aim to engage the data-sharing community from a bottom-up approach to contribute their know-how to EOSC. This call specifically targets small projects to show implementation and take-up of existing outputs and specifications, specifically those that the RDA community has enabled. The scope is wide-ranging and projects should be short, and focused for a period of three months
The call aims to support and encourage the adoption of existing RDA outputs and recommendations which can benefit the community around EOSC and to promote new examples and lessons learned. The application deadline is the 20th of February 2023. See a list of currently funded RDA/EOSC Future Open Call projects here.
More information on the EOSC Future funding platform.
Related Projects