ECRIN joined the 4th and final Annual General Meeting of the EOSC-Life project!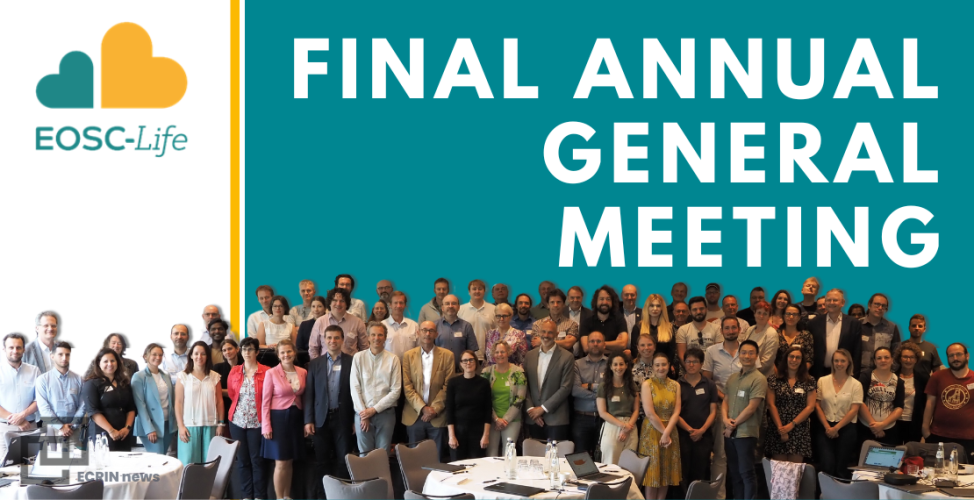 The EOSC-Life project organized its 4th and final Annual General Meeting on 27 and 28 June in Brussels. The project started back in March 2019 with the aim of establishing the "life sciences" component of the European Open Science Cloud through the development of FAIR data resources, tools, and trainings. A key element of EOSC-Life has been the provision of policies, guidelines, and processes for secure and ethically and legally compliant sensitive data reuse.
Within EOSC-Life, ECRIN worked on improving the findability of clinical studies and associated data objects (e.g. study protocols, statistical analysis plans, informed consent forms) by building the ECRIN Clinical Research Metadata Repository containing information on more than 700.000 clinical studies and 1.000.000 associated data objects. To tackle the research reproducibility crisis and accelerate scientific breakthroughs ECRIN designed and developed together with the University of Oslo a secure and GDPR compliant Clinical Research Repository for the sharing and reuse of Individual Participant Data. Finally, to help researchers navigate through different regulations, policies, best practices, and recommendations for sensitive data sharing, ECRIN partnered with 5 other life science infrastructures (EATRIS, BBMRI-ERIC, ERINHA, Euro-BioImaging, EMBRC) to provide a demonstrator for an EOSC-Life toolbox for sensitive data sharing.
The ECRIN tools were presented by the data team to stakeholders and the sustainability and next steps for key EOSC-Life outcomes were discussed. If you want to know more about the sustainability "lessons learned" of the EOSC-Life research infrastructures have a look at the recent project publication pre-print! The project's official end date is 31 August 2023.
Related Projects
Discover other news